The Top 5 Nights Out in Nottingham – Trent Freshers '17
It's all coming into place. You've got your unconditional offer, your accommodation is sorted, and you're looking forward to the year ahead.
One of the most important things that freshers will be looking forward to this year is the amazing nightlife of Nottingham. It truly is a student city and pretty much every night is one you can hit the town.
Of course, coming to a new city can be confusing – you don't want to end up in a dead club! Therefore, here's our list of the top 5 best nights out in Nottingham.
---
5. Climax, Nottingham Trent Students Union
Close to home (if you're living in Byron you might be literally on top of this club!), Climax at the SU has to be the best night out on a Saturday.
The DJ is great, the drinks aren't too expensive, and there are three floors where you can dance the night away. Climax is based in the new SU building only built a few years ago, which has won loads of awards and it's easy to see why.
Every weekend you can also win tickets to Climax with our Twitter competitions – follow us to find out more.
---
4. Pryzm (Tape Tuesdays)
Oldies might remember this club as Oceana, but since its £800,000 refurbishment and rebrand last year it's only got much better.
With 6 (yes six!) themed rooms to choose from, you'll never get bored in Pryzm. A personal recommendation is the cheese room (they call it Vinyl) downstairs – if you're partial to a bit of One Direction or Cotton Eye Joe (who isn't after a few drinks?) then head on down and party like it's 2017.
The drinks here are also incredibly cheap – I'm talking £1.50 for some shots and mixers, so if you're coming from the South try not to get too excited and spend all your loan in one go!
---
3. Bunk, Bierkeller and Coco Tang
This one is no ordinary student night – it's just one that me and some mates did, and it was amazing. A tour of Nottingham's most fun student-friendly venues.
Start your night off in Bunk, have some of their incredible (and pretty cheap) chicken wings and  some cocktails. Move on to Bierkeller (a relatively recent addition to the city), fill your huge stein with cider, and dance on the tables – it's like the Oktoberfest all year round!
Finish your night in the fantastic Coco Tang club and cocktail bar – a lively hidden venue in the heart of Nottingham's Lace Market – lovers of house music will adore this place. (Just remember there's a dress code!)
It might seem that this night might break the bank, but the relatively low prices in Notts mean that it's not even that expensive. Give it a try if you're wanting something different to a regular club night.
---
2. Tuned @ Rock City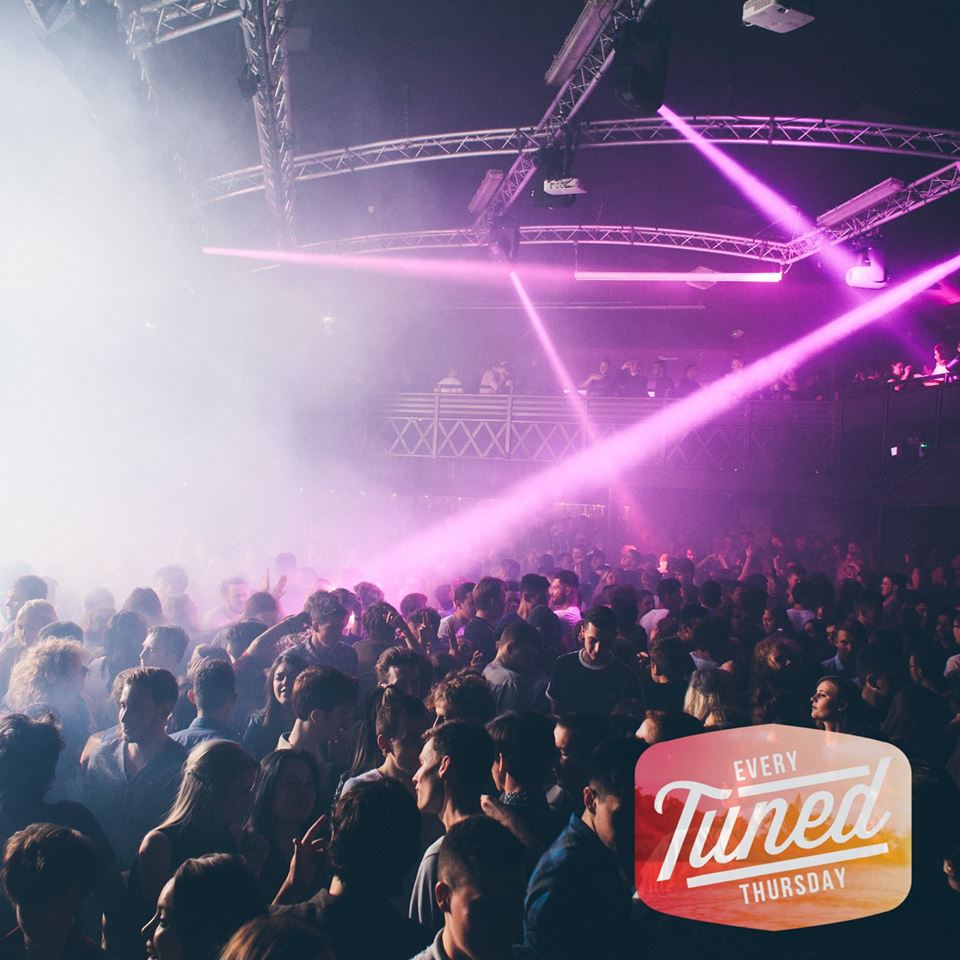 Rock City has to be one of the most famous venues in Nottingham. It's hosted acts such as Oasis, Ozzy Osbourne, Nirvana and Blur. And every Thursday they host a massive student night – Tuned.
With 2 for 1 drinks, three different rooms, and an amazing sound system it's clear to see why this night is so popular. Plus, go to Quids In at the SU beforehand for ridiculously cheap Snakebites and you could have an awesome night for almost no money at all!
---
1. Ocean Wednesdays
Ah yes, Ocean Wednesdays. Not sure whether to use the word 'famous' or 'infamous' around Nottingham Trent Uni, but I can say that attending Ocean has to be a rite of passage to calling yourself an NTU student.
Head down to Loveyababes during the day, collecting some tat fancy dress you're soon to never see again, pre drink, try not to trip over the people begging for tickets at First Base, head on a bar crawl with your society or sports club, take a dip in the Ocean, lose your shirt, your will to drink again, and your money. What could be better?!
---
There we have it. The best nights in Notts… in my opinion. Of course there are loads more clubs and places you can enjoy in Nottingham, such as Ink and Pom Pom as well as the seemingly endless amount of pubs and cocktail bars (the Rum House is a personal recommendation from me!).
So what are you waiting for? Get out there, and have the night of your life!
Fly FM supports drinking responsibly! Remember there's more to do in Nottingham than just drink. Check out our #HelloNTU page for more stuff to do in the city.